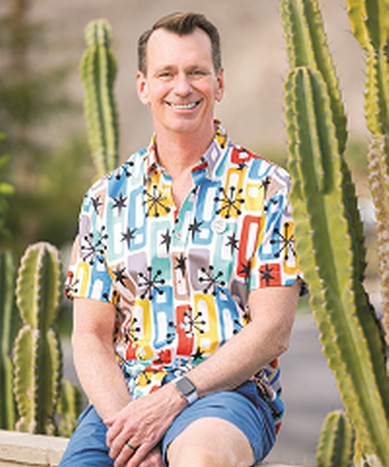 "I hadn't been having any symptoms at all," says Palm Springs resident Bob Iles, 60. "I was going to the gym three days a week doing high-intensity interval training, swimming a mile-and-a-half a couple of times a week, riding my bike. Then I started coughing in late October-early November of 2019.
"As you know, we scalp the lawns here, so I assumed my cough was due to all the stuff in the air," he continues. "So I didn't pay it any mind until I coughed up blood."
Iles contacted his primary care physician who ordered a chest X-ray. The imaging showed a fairly large mass in Iles' left lung, so his primary care physician referred him to Eisenhower Pulmonologist Justin Thomas, MD, for a biopsy. Dr. Thomas is Board Certified in Pulmonary Disease, Internal Medicine and Critical Care Medicine. The biopsy revealed that Iles had small-cell lung cancer.
Small-cell lung cancer makes up an estimated 10 to 15 percent of lung cancers. It is strongly related to smoking and is considered the most aggressive form of lung cancer.
"I had been a dedicated smoker for about thirty years," Iles admits, noting that he had quit 16 years ago.
Dr. Thomas referred Iles to Eisenhower Board Certified Medical Oncologist Davood Vafai, MD, who specializes in treating lung cancer.
"At our initial meeting with my husband and me, Dr. Vafai spent a good deal of time explaining things, bringing us up to speed on the type of cancer I had and the treatment he was recommending," Iles says. "But it wasn't like 'I'm going to treat you.' It was 'We're going through this together.' He spoke with us versus to us. He makes eye contact and makes sure you're tuned in."
As part of his due diligence before committing to treatment, Iles sought a second opinion from an oncologist out of the region. "The doctor there told us that what Dr. Vafai recommended was the same regimen that he'd propose," he relates. "That gave us real peace of mind."
On December 9, 2019, Iles underwent his first round of chemotherapy treatment.
"From then through late February, I did four rounds of chemo, each lasting seven days," he says. "In addition, I was given immunotherapy — which my insurance initially didn't want to cover. But Dr. Vafai's office fought for it and got it covered.
"Once I finished chemo, I had 25 sessions of radiation therapy to the chest," Iles continues. "After that, Dr. Lingareddy said that while everything looked good, she explained that chemo will kill all cancer cells except those in the brain, so she recommended ten sessions of prophylactic cranial radiation to make sure none were hiding in there." Vasudha Lingareddy, MD, FACRO, is an Eisenhower Board Certified Radiation Oncologist.
Surgery was not part of Iles' treatment because, as Dr. Vafai explains, "We rarely do surgery on small-cell lung cancer unless it is a very small tumor."
Iles' cancer treatment wrapped up on July 31, 2020.
"I consider myself the luckiest guy on the planet," he says. "During chemo, I had no nausea and never vomited. A lot of people get neuropathy from chemo, but I didn't experience that. I also had no fatigue during chemo or chest radiation therapy, although I did have about four weeks of extreme fatigue after the brain radiation.
"And I didn't lose my hair until my treatment was over," he says with a laugh. "I got my hair cut a few days after I finished treatment, came home to shower, and it fell out! But it all came back, with less gray and it's thicker."
Iles went into treatment knowing that his type of lung cancer can be difficult to control. But "he has had a magnificent response and remains in remission," Dr. Vafai says. "He is doing remarkably well."
"Every three months I have a CT scan of my torso, abdomen and pelvis, and I go over the results with Dr. Vafai," Iles says. "The last time, he said to me, 'Get out of here, you're wasting my time, you're A-plus!'
"Physically, I feel on top of the world," he continues. "I'm back to doing 20-mile bike rides and one-and-a-half-mile swims."
And while he certainly credits Dr. Vafai and his entire care team for his excellent clinical results, Iles also believes that his mental attitude has played an important role in his outcome.
"When you get a cancer diagnosis, you go through the wringer mentally and emotionally," he says. "But I'm a glass-three-quarters-full kind of guy. Even when I was facing such a dire prognosis, I wouldn't let myself go there.
"As soon as I was diagnosed, my husband said, 'We're going to stay strong, fight and win,'" Iles continues. "That became our mantra and I had buttons made up, giving out about 400 to others who were fighting a battle, whether it was cancer, a bad relationship or a rough time with employment.
"I also had a set of vinyl letters made that I put on my mirror, and I drew strength from that mantra every time I looked in the mirror," he says. He also had a set made for his mother-in-law who is battling ovarian cancer.
"Bob is a very nice man, with a very positive psychology toward everything," says Dr. Vafai. "He's had an excellent outcome."
In the midst of the pandemic last year, Iles even launched a cancer support group. "We did it via Zoom," he says. "I feel I dodged a bullet and wanted to support others going through it."
For more information or to contact Eisenhower Lucy Curci Cancer Center, call 760.674.3602 or visit EisenhowerHealth.org/Cancer.