Eisenhower Family BirthPlace: Giving Birth is a Personal Experience - At Eisenhower it is All About the People
Featuring: Veronica Williams, Jaime Tannenbaum
Dr. Tannenbaum and Veronica Williams discuss in a 2 panel interview on giving birth being a personal experience.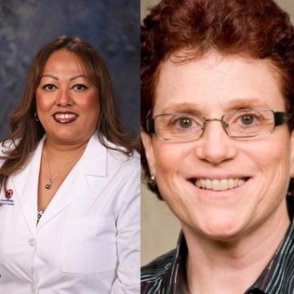 Profile:
Veronica Williams, MSN, MBA came to Eisenhower Health recently as the Director of Maternity Services and is tasked with developing and creating Eisenhower's new Family Birth Center which is schedule to open in early 2021. Veronica's nursing career has centered around labor and delivery experience and has managed several labor and delivery centers. She is bringing the best resources and most advanced technologies to the creation of Eisenhower's new Birth Center. 
Dr. Jaime Tannenbaum, is a neonatologist with over 32 years of experience in the medical field and is joining Eisenhower Health in January 2021 as the director of the NICU in Eisenhower's new Family BirthPlace. Most recently, Dr. Tannenbaum has been practicing at the renown UC San Francisco Benioff Children's Hospital in Oakland, CA.
Transcription:
Introduction: You're listening to another episode of Living Well with Eisenhower, healthcare as it should be.

Caitlin Whyte: Giving birth is a personal and unique experience for every woman and we want to make your labor the best it can be. So we're discussing this today with Dr. Jaime Tannenbaum, the Director of the NICU at Eisenhower's New Family Birthplace and Veronica Williams, the Director of Maternity Services. I'm your host, Caitlin Whyte. Dr. Tannenbaum, tell us a little bit about your background.

Dr. Tannenbaum: Thanks for having me. I am what's known as a neonatologist, and that's a doctor that specializes in the care of sick or premature newborns. And I'm originally from New York. I did my medical training in Philadelphia, and then I completed my residency and fellowship back in the Bay area where I've practiced for the last 25 years.

Host: And Veronica tell us about yourself as well.

Veronica Williams: So, I have been a nurse for approximately 27 years. During that time I have practiced both in California and Alaska. I lived in Alaska for the first, I'd say about 10 to 12 years of my career. During that time, I was able to do some flight nursing for maternal transports. Then I did some traveling as a labor and delivery nurse here in California. And now I'm here at Eisenhower as a director.

Host: Dr. Tannenbaum, Eisenhower Health has spent years planning for the launch of this program and finding the best experts to help plan and develop it. You are one of the key leaders of the program. Are there other experts involved who have been attracted to the opportunity to create the best program possible?

Dr. Tannenbaum: Yeah, there are. And first I'll speak to the infant service side so we have [inaudible 01:57] which is my specialty in different areas pediatric hospitalist, and the hospitalist will be providing 24/7 in-house coverage for labor and delivery, all babies services, the neonatal intensive care unit, and the emergency department as needed. That's basically means anytime of the day or evening, you'll have specialized newborn care readily available in the hospital, which is very important, especially if an unforeseen complication occurs or the birth of extremely premature infant occurs as the medical community there and ready.

Host: Veronica, how does this translate into a different or better experience for women giving birth?

Veronica Williams: As far as the experience, of course we have focused on family centered care. So we include the entire family of course, with COVID, it is a little different at this time. Normally we would have, you know, siblings and in-laws and aunts and uncles all present if you know, that was something the couple wanted, but at this point it's usually the spouse or support person and maybe doula if they have one. But we definitely do focus on the entire family as a whole.

Host: And doctor, how have the facilities been influenced by this team of experts and your involvement?

Dr. Tannenbaum: Well, it's for me anyway, it's like a dream come true. I was given the opportunity to basically build the NICU or neonatal intensive care unit of my dreams. So in addition to a highly skilled staff, we have a brand new state-of-the-art facility and everything we need is literally at our fingertips.

Host: And so, Veronica Eisenhower health has assembled a team of experts in each of the important service areas and every step and stage of a woman's pregnancy journey, some from other places and some from Eisenhower, but all of them are veterans in their area of specialization. So there isn't retraining needed. Right?

Veronica Williams: Correct. So, for the most part, we have tried to find very seasoned practitioners from of course, Dr. Tannenbaum to our laborists. And we have Perinatology, which is our high-risk maternal health physician, which comes from UCSD. And we have a group of pediatricians, which, like I said, have many years of experience as well, to the nursing staff, which we'll also be onboarding with plenty of experience.

Host: Now doctor, it sounds like Eisenhower has considered all of the needs of a woman and her baby from pregnancy through to bringing her baby home. Tell us why that is so important?

Dr. Tannenbaum: Well, that's correct. And I think all aspects of a family's birth journey have been not only addressed, but also maximized for a truly family centered experience.

Host: Now Veronica, some of these will impact a woman's birthing experience and others will ensure that the team can do their best work and deliver the highest quality of care. Right?

Veronica Williams: That is correct. So, Eisenhower Health is committed to providing the highest level of personalized care with the state of the art facility we have pretty much looked at every detail that we possibly can to ensure that the highest level of quality is provided.

Host: Dr. Tannenbaum wrapping up here. Is there anything else you'd like to add to this conversation?

Dr. Tannenbaum: I'd like to add is just something that you asked for initially in terms of the project and its excitement. I would say the project really exciting to me because not only will the program provide comprehensive maternal infant services to the community, but also so at Eisenhower health, which is a center of excellence in so many areas.

Host: And Veronica, anything else you'd like to add?

Veronica Williams: Yeah, like Dr. Tannenbaum I share her just enthusiasm and excitement to put this new unit together. The whole community seems to be excited about having different options for labor and delivery. And the entire facility is just thrilled that we have a new area opening up.

Host: Well, thank you both so much, ladies. I'm so glad we had this conversation today. Find more information on giving birth with Eisenhower at eisenhowerhealth.org/babies. And thanks for listening to Living Well with Eisenhower Health. I'm Caitlin Whyte, stay well.