Nature's Gym
By:Jan Maguire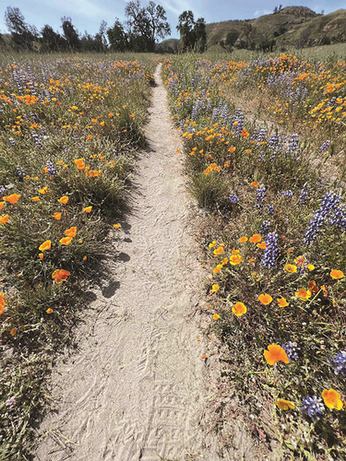 Hit the Trails to Forge Deeper Connections and a Healthier You
When John McKinney tells someone to "Take a hike," he's not being rude — he literally means it. If anyone is qualified to share his perspective on hiking and how it inspires and benefits us, it's McKinney, who wrote a weekly column about hiking in the Los Angeles Times for nearly two decades. He has hiked more than 10,000 miles of trails in the United States, blazing a new trail when he solo-hiked the entire length of the California Coast, from the borders of Mexico to Oregon.
McKinney caught the "hiking bug" early on as a Boy Scout in Downey, California. Eventually advancing to the coveted ranks of Eagle Scout, he looked forward to the weekl ong backpacking adventures that took place during summer in the mountains of Southern California and the High Sierras. While studying broadcast journalism at the University of Southern California, McKinney helped launch the University of Southern California hiking club. After graduation, he pursued a screenwriting career but made a professional pivot writing articles about hiking for magazines such as California, Sunset, Islands and the Los Angeles Times.
Now based in Santa Barbara, McKinney's enthusiasm for exploring the great outdoors has not waned over the years; quite the opposite — he's developed a deeper appreciation for hiking and the enjoyment and well-being that a lifestyle communing with nature brings.
"I think you get in touch with yourself on the trail, and it deepens your connections when you share it with family and friends," he says, adding that, personally, it has deepened his spiritual relationship with nature and a higher power.
Step into nature's gym
There are also profound health benefits to hitting the trail, McKinney says, including dropping excess weight, controlling diabetes, lowering high blood pressure and boosting cardiovascular fitness. Hiking has also been shown to help strengthen muscles and increase bone density, thus reducing the risk of osteoporosis, and easing arthritis and joint pain. It also helps improve sleep, promote balance and stability, and reduce anxiety and depression.
Traversing the Golden State
McKinney has hiked many iconic, breathtaking destinations outside of the state, including "The Holy Mountain" of Mount Athos in Greece, but California has his heart. Not surprisingly, he has explored and written about all 280 state parks in California.
"Other states have tall mountains, great forests, long shorelines, and desert landscapes, but California has all of these conserved in state and national parks," says McKinney. "We have the most beautiful beaches, vast deserts and the redwoods, the tallest trees in the world."
His favorite place to hike in California is the Lost Coast Trail, which extends over Mendocino and Humboldt Counties in the King Range Wilderness of Northern California. Wild and secluded, the 25-mile trail hugs the rocky coastline of the Pacific Ocean revealing extraordinary views of black sand beaches and tidepools, wildflowers and wildlife.
"It's an amazing place of steep canyons, Redwood groves and magical Roosevelt elk," he says.
The inveterate hiker still spends at least 50 days a year traveling to parks, revisiting trails, and checking out new trailheads. After a lifetime of hiking and writing about it, he'd love to see more family members on hiking outings to experience the joys of spending uninterrupted time together in nature. During the pandemic, McKinney wrote a book entitled "Hike with Kids," geared to parents, grandparents, teachers, and youth leaders.
"Now that I'm older, I'm very conscious of sharing the trail and encouraging multigenerational hiking," he says. "I want to see older hikers keep at it because it has so many physical and mental health benefits and I want to see more kids on the trail."
McKinney has written several more books on hiking including a California National Park Series collection, as well as guides that highlight trails in diverse regions of Southern and Northern California.
You can read tales of his hiking adventures at TheTrailmaster.com.
Tips for the trail

Whether you are going for a two-mile hike or an odyssey into the wilderness, safety is paramount. Above all, use common sense and pay attention to your surroundings.
McKinney emphasizes that hikers should:
• Wear good quality footwear, a broad brimmed hat, and plenty of sunscreen.
• Pay attention to clothing and layer up in breathable fabrics and waterproof outerwear. You may even want to consider wearing convertible hiking pants with zip off legs for warmer weather.
• Invest in a fully functional hiking daypack — not a computer backpack — with comfortable padded shoulder straps and a hip belt.
• Carry one to one and a half liters of water for short to medium length hikes.
• Carry the Ten Essentials — vital items to include on every hike. For an in-depth list visit thetrailmaster.com/tips/ten-essentials-for-hikers.
© 2023 Eisenhower Health. All rights reserved.