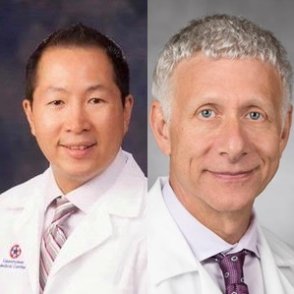 Profile:
For Henry Tung-Yun Tsai, MD, MA, a Board Certified Hematologist and Medical Oncologist - specializing in the treatment colon cancer and other gastrointestinal cancers, medicine has always been a part of his life. Originally from Taiwan, Dr. Tsai's father and sisters all have careers in medicine - ranging in specialties from pharmacy to general surgery. After having moved from Taiwan at age 14, Dr. Tsai attended the University of California at Berkeley where he received his Bachelor of Arts in molecular and cell biology/neurobiology. He received a Master of Arts degree in medical sciences from Boston University and attended medical school at Wayne State University School of Medicine in Detroit, Michigan. Upon graduating from medical school, he moved to Atlanta, Georgia for an internship, residency and a fellowship in Hematology/Oncology at Emory University. It was at Emory where Dr. Tsai grew to love his chosen specialty: cancer care. "Yes, cancer care is one of the most difficult fields to practice," says Dr. Tsai. "But, it is also the most stimulating and rewarding. There are days when I see my patients get better and I have experienced hope. I feel privileged to be a part of their process." Dr. Tsai has been a member of the American Medical Association, American College of Physicians, American Society of Clinical Oncology. He has been the local principle investigator for various clinical trials and has presented at workshops and symposiums across the United States. He has authored a book chapter and manuscript related to cancer. 
Andrew M. Lowy, MD is a surgical oncologist with expertise in treating cancers of the pancreas and GI tract. Dr. Lowy is recognized worldwide for his expertise in pancreatic cancer surgery and in the management of complex gastrointestinal cancers. He is also known for investigating novel cancer treatments, including heated intraperitoneal chemotherapy (HIPEC), to treat advanced abdominal cancers. As clinical director for Cancer Surgery at UC San Diego Health Moores Cancer Center, Dr. Lowy serves as senior advisor on all matters related to cancer surgery, including clinic oversight, operating rooms and inpatient services. He is a professor in the Department of Surgery and chief of the Division of Surgical Oncology at UC San Diego School of Medicine. His research program, which focuses on pancreatic and peritoneal metastasis, has received funding from the National Cancer Institute, Stand-Up-To-Cancer, The Lustgarten Foundation, AACR/PANCAN, and the National Organization of Rare Diseases. He currently serves as the surgical principal investigator for the largest pancreatic cancer clinical trial ever conducted in the United States. A frequent speaker at national and international meetings, Dr. Lowy has coauthored numerous textbooks, book chapters and peer-reviewed articles, and serves on the editorial board of Annals of Surgical Oncology. He completed a surgical fellowship at University of Texas, MD Anderson Cancer Center, and residency training at Cornell Medical Center and Memorial Sloan Kettering Cancer Center. He earned his medical degree from Cornell University Medical College. He is board certified in surgery and a Fellow of the American College of Surgeons (FACS). Dr. Lowy has repeatedly been named a top doctor in San Diego Magazine's " Physicians of Exceptional Excellence" annual survey performed in collaboration with the San Diego County Medical Society.
Transcription:
Alyne: With the recent deaths of Alex Trebek and Justice Ruth Bader Ginsburg from pancreatic cancer, our interest is more heightened these days regarding this disease. I'm Alyne Ellis and joining me today to talk about this vital organ are Dr. Andrew M. Lowy, the Chief of Surgical Oncology at UC San Diego and an expert in treating cancers of the pancreas and the GI tract, and Dr. Henry Tsai, a board-certified hematologist and medical oncologist specializing in the treatment of colon cancer and other gastrointestinal cancers at Eisenhower Health.

Welcome, gentlemen.

Dr Andrew Lowy: Thank you.

Dr Henry Tsai: Thank you.

Alyne: So Dr. Tsai, let's begin with three basic questions. What is the pancreas? Where's it located? And what does it do?

Dr Henry Tsai: So the pancreas is part of the digestive organs. It's hanging in the middle of your abdomen. And it does a lot of digestion. It secretes insulin. It secretes pancreatic enzymes to help you digest food, fatty substances, and it regulates your sugar and multiple other functions. So it's very important for our digestive health.

Alyne: And what is the magnitude, sir, of a pancreatic cancer?

Dr Henry Tsai: So pancreatic cancer per year is about 60,000 people in the US. And it's the fourth leading cause of death for cancer deaths in the US. So it's not very common comparing to colon cancer, which is about 150,000 people, but it's quite deadly. And a lot of people end up dying.

Alyne: And why are the outcomes so terrible for this?

Dr Henry Tsai: Well, the problem with pancreatic cancer is that it is hard to detect. And oftentimes people don't have any symptoms until it's too late. And even if it's detected relatively early, maybe about one out of five is a surgical candidate. And surgery is really the way to cure this disease if it's caught early.

So if you're looking at 20% of people showing up to the office and you could only tell them, "Well, one out of five of you would end up being a curable candidate," that's already cutting down the odds. And even if you undergo a successful surgery, if you caught them early, the keyword is catching them early, even with no lymph nodes, five-year survival, you're looking at 30%. So even if it looks curable in five years, 70 people out of a hundred would die and 30 people will be alive.

Now, if you've got lymph nodes, that statistics goes down to 10%. So even in the early stage, it's not really that great. A problem is because it doesn't give you symptoms until it's too late, oftentimes by the time patients show up to us pretty advanced and a lot of the time they show up with metastatic disease.

Alyne: So how can earlier detection help?

Dr Henry Tsai: So, as you can see, as I stated earlier, if you catch them early, the odds are much better. So if you catch them super, super early and you're able to do a successful surgery, then the chance of being cured is much, much higher. So early detection is very paramount to trying to improve the survival of this disease.

Alyne: So Dr. Lowy, what about screening? Who should be screened?

Dr Andrew Lowy: So the screening for pancreatic cancer is really in its early stages. The problem as Dr. Tsai mentioned is that it's not a very common disease. And because of the location of the pancreas, widespread screening for the population doesn't make sense, both because it's not a common enough disease and screening tests are somewhat more challenging.

However, that being said, we now recognize that there are people who are at much higher risk to get pancreas cancer than people in the general population. And they fit into mainly four subgroups. One is people who have known genetic alterations that they carry, that make them susceptible to getting pancreas cancer and there are a large number of genes that have been identified that if you have one altered copy of that gene, then you are more susceptible. And some of those genes are genes that we know confer susceptibility to other cancers like breast cancer.

The second group is people who have a strong family history of pancreas cancer. And we typically think about people who've had two or more first degree relatives, so parents, siblings, children, with pancreas cancer. The third group are people who have known lesions in their pancreas, so things like certain types of pancreatic cysts can confer increased risk to becoming pancreas cancer.

And the fourth group are people who have a long-standing history of inflammation of their pancreas, something called chronic pancreatitis. Those are the subgroups that we really focus on to think about doing screening.

Alyne: And what does that screening involve?

Dr Andrew Lowy: So typically, screening involves an MRI, which is a type of imaging study of the pancreas. and the other modality that we use is something called endoscopic ultrasound, which is an endoscopic procedure, where they put a scope down into the stomach. And that scope has a little probe, an ultrasound probe on it. And it could look through the stomach wall at the pancreas in fine detail. So those are the two real modalities that we use for screening for pancreas cancer.

Alyne: So Dr. Lowy, tell us a little bit about the UCSD Pancreatic Center and its affiliation with Eisenhower Health.

Dr Andrew Lowy: So at UC San Diego Health, at Moores Cancer Center in La Jolla, about two years ago, we began a service, a clinic called the UCSD Pancreatic Cancer Prevention Clinic. And really, the idea of this clinic is to find pancreas cancer early. Ultimately, our real goal is to prevent the disease, which is why we named it the prevention clinic, but at this stage early detection and early diagnosis is really, you know, the Holy Grail for improving outcomes as Dr. Tsai said.

And one of our most important partners is Eisenhower Health in Rancho Mirage in the Coachella Valley, and they are our cancer center partner and their presence allows us to extend our screening services and availability out to the population of people who live about a two-hour drive from La Jolla.

So that clinic is a multidisciplinary clinic, meaning that there are physicians and specialists with different expertise, including gastroenterology, surgery, radiology, genetics, nutrition, all of these different aspects, which are relevant to people who may have pancreatic cancer risk.

Alyne: And if someone thinks that they may be a candidate for screening, what should they do?

Dr Andrew Lowy: So our phone number is (858) 822-HOPE, H-O-P-E, which translates to (858) 822-4673. and we have a nurse coordinator who will speak with patients to try to get an understanding of why they think they're at risk. And, if they are an appropriate candidate to be seen in the clinic, then we will make the appropriate arrangements to see the providers that we think are best suited to their particular circumstance. In the era of COVID, we've been doing a lot of these visits via telehealth.

So patients can have the visit from the comfort of their own home without need to come in many times. And so that's been also actually a great thing because it provides access to people who may have difficulty getting to La Jolla.

Alyne: And anything else that either one of you would like to add, please?

Dr Andrew Lowy: I guess I would add that when we talk about early detection or early diagnosis, in the past, we were talking about finding pancreas cancer when it was operable as Dr. Tsai said. But as he mentioned, for what we used to consider early pancreas cancer stage I or II, those people we now really don't think of as really having that early a disease.

But when we find pancreas cancer when it is under a centimeter, we can actually cure most patients. And so we really want to push the early detection to even earlier to finding cancers when they're millimeters in size and, as I said, ultimately preventing them. But very early diagnosis really is transformative in improving patient outcomes and achieving a cure.

Alyne: And Dr. Tsai, anything you'd like to add, please?

Dr Henry Tsai: There's a lot of new technology coming out in prevention and even early diagnosis. One day, maybe not in too distant future, one may be able to walk into a primary care office and do a blood draw and we could detect tumor cancer cells and may be able to allow us to find somebody even earlier. And there's a lot of excitement in that technology, but it's currently not in our clinic yet, but it is coming. So hopefully, that would change the outcome or pancreatic cancer death.

Alyne: Well, both of those sound like a good news in the long run. So thank you both very much for joining me today.

Dr Andrew Lowy: Thank you having us.

Dr Henry Tsai: Thank you.

Alyne: Dr. Andrew M. Lowy is the Chief of Surgical Oncology at UC San Diego and a specialist in treating cancers of the pancreas and the GI tract. Dr. Henry Tsai is a board-certified hematologist and medical oncologist at Eisenhower Health.

If you reside in or near the Coachella Valley, contact the Eisenhower Lucy Curci Cancer Center patient nurse navigator, Patty Garcia, at (760) 837-8914. If you reside elsewhere, contact UCSD's Moores Cancer Center at (858) 822-4673, that's (858) 822-HOPE.

If you found this podcast helpful, please share it on your social channels and be sure to check out the entire podcast library for topics of interest to you.

This has been Eisenhower's Living Well podcast. I'm Alyne Ellis. Thanks for listening. We'll talk next time.